Don't print, create an electronic document.
Do you have a piece of equipment such as a medical device, manufacturing or laboratory test equipment that only allows reports to be printed via an attached printer?
Alcon Laserwave
GDX AccessEpic 5100
Heidelberg HRT II (Scanning Laser)
Humphrey Field Analyzer 750 (models i, ii, VF)
OCT Stratus
Konan Specular Microscope
Medtronic Secura DR D234DR
BAE systems test equipment
Klingelnberg Gear measurer
Bausch and Lombe Orbscan
Haig-Streit Slit Lamp Camera
Humphrey Atlas 990
Marco ARK 9000/10000
IOLMaster
Delphax Checktronic cheque printer
MOT test equipment
Humphrey Matrix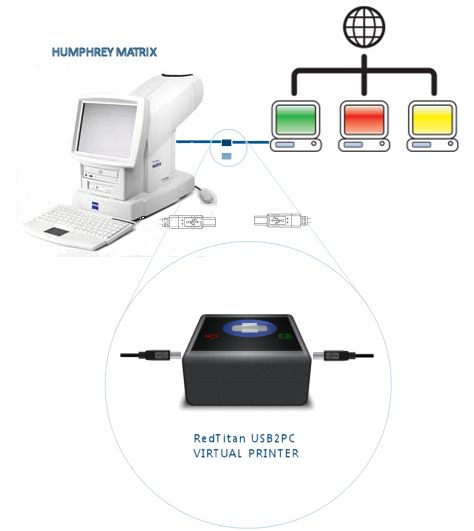 Capture these in a variety of industry-standard electronic document formats eg PDF or print them to a network-attached printer, using the RedTitan Virtual Printer.
We provide hardware and software solutions to enable the capture of Parallel, USB and Serial port output, as well as TCP/IP attached printers using IPP, LPR or streamed printing protocols.
If you cannot change your "type approved" or "black box" hardware then the RedTitan Virtual Printer provides a safe replacement for the printer that will create both an electronic document or printed record.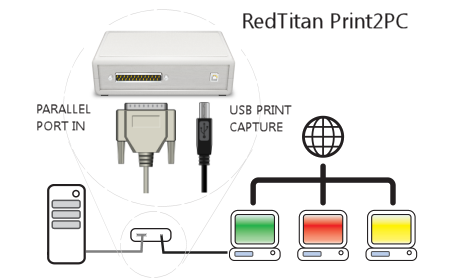 How do we do this?
The hardware is a small box 7cm x 7cm x 3cm USB2PC or 12cm x 4cm x 6cm for parallel2PC connections, both are powered by the USB connection (they do not require an external power supply).

The connection from your device plugs into the input side of the box via the supplied adapter, the output is connected to your computer by a USB cable, also included.

Your computer powers the box and the hardware controls the data handshake and transfer of data to your computer, where the conversion of the printable data to the format of your choice takes place.

Formats available are PDF, TIFF or TEXT. Other formats for specialist applications available on request.
The RedTitan Virtual Printer is used by some of the largest Manufacturing and Medical companies in the UK and worldwide.
Please click on one of the case studies below to see how it's used;
Click here for a Virtual Printer Product Brochure