At the beginning of laser printing, the manufacturers of printers had their own format of fonts and images. Big Xerox production printers used FNT as their font extension and Hewlett-Packard has their own version for their PCL language. Postscript fonts were written in the Postscript language for use on any system that supported Postscript. Images were supported in a variety of ways and fonts, images, and the Xerox logo format were treated differently. Xerox LOGO was a set of characters like a font with a map that told the printer how to align to characters to recreate the image.
RedTitan provides tools to convert Printer specific bitmap fonts and images into another printer format and these tools are still available today for this type of conversion work.
Font/Image Converter is a program that converts fonts, logos, and images between specific printer formats and RedTitan format or between two different printer formats/orientations. It uses a RedTitan-specific internal format that provides a way of storing information about fonts and images that is independent of printer manufacturer formats. This has the advantage that a single format can be used to store fonts and images for many different makes, models, and types of laser printers.
RedTitan can also supply an application for converting TrueType & OpenType scalable fonts to these legacy bitmap formats enabling older systems to be changed.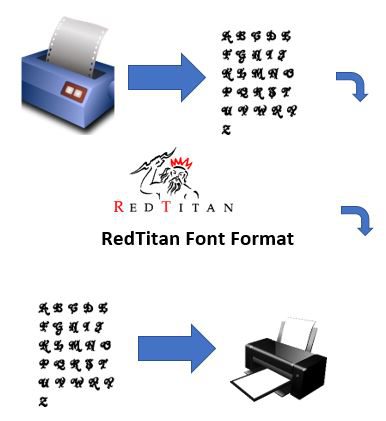 We support all the popular bitmap formats including but not limited to Xerox formats, FNT, LGO & IMG. All Hewlett Packard formats, all bitmap Postscript formats, and all bitmap AFP (Advanced Function Presentation sometimes called Advanced Function Printing).
For more information, please contact your local RedTitan representative, details can be found here https://www.redtitan.com/contacts/