RedTitan print capture hardware is used in several thousand installations worldwide to migrate high-value paper print applications to electronic records.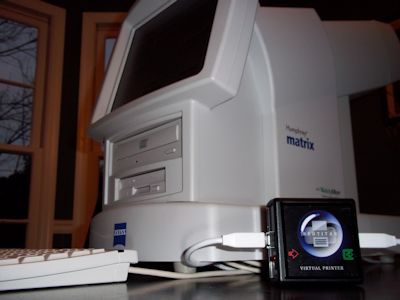 RedTitan Virtual Printer replaces a full-colour inkjet printer on a Humphrey Matrix.
No external power supply is required.
No changes are required to the Humphrey Matrix configuration.
Visual Field Test printout processed directly by a USB-attached PC.
Results converted to PDF, DICOM or image formats.
Automatic extraction of EMR data
Replace the USB-attached printer on the Humphrey Matrix with a Virtual Printer and capture output in an electronic document format.
The Humphrey Matrix supports HP 6122, 3820, or 6940 full-color inkjet printers. The Redtitan hardware is automatically detected when it is attached to the system using a USB cable. A second USB cable is used to attach the hardware to a PC running the RedTitan USB2PC software. When the operator initiates a Visual Field Test print the data that would be generally sent to the printer is directed to the USB2PC software. This data may then be printed on any colour printer to produce the exact report that would have been originally printed. The system can be configured to produce a number of other formats including PDF, DICOM and image. All of these tasks are completed automatically without operator intervention thus eliminating the potential for error.